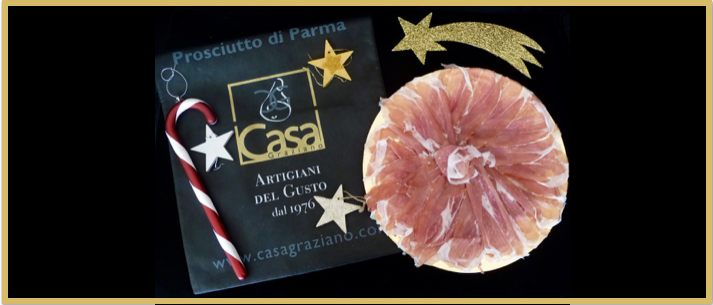 Here we are, Christmas is coming and the most intense period of the year too. Overcoming Christmas is never easy, many things to do, christmas meeting, dinner and lunch. An endless list of things to do and the trouble about holiday menu with the big question: what everyone like? If you are looking for answer, if you need certainties, if you are looking for something that can satisfy the most demanding palates, if you would like to draw a smile to even the most surly friends we have some advice for you: let yourselves be captivated by the sweetness of Casa Graziano's Parma Ham, always better not just at Christmas. While you'll be sitting around a table with your loved ones, will be a pleasure for us to delight yourself through soft and tasty slices of parma ham, the ideal solution to forget the stress and fully appreciate the beauty of being with family. We would like to say thanks you to all of you who supported us by choosing our parma ham, it is also thanks to your support that we carry out our work with pride and dedication every day. A new year is coming, we are sure that, thanks to your support, new satisfactions will come, from our part we'll do our best to search for the best quality in order to offer to you a top quality product made with great care and passion. To all of you our best wishes for a Merry Christmas and Happy New Year. The Casa Family – Graziano, Luisa, Simone e Andrea.

Casa Graziano Parma Ham, always better not only at Christmas Click to Tweet
Casa Graziano s.r.l.
Loc. Capoponte - 43028 Tizzano Val Parma (PR)