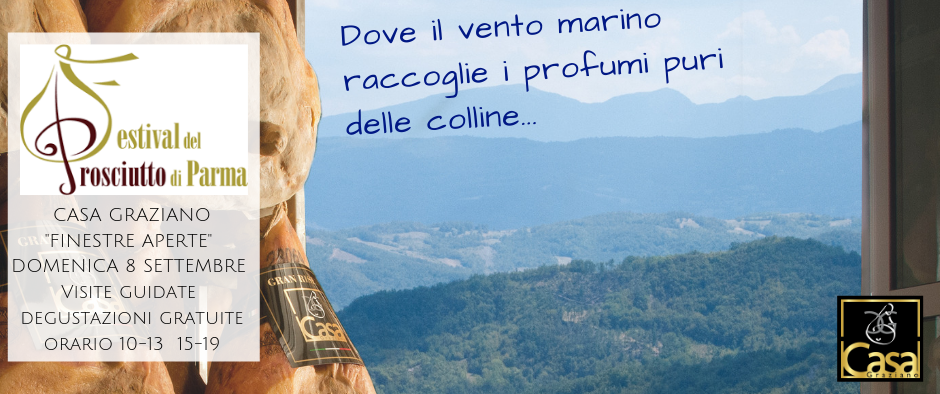 Open doors are the heart of the Parma Ham Festival, a unique opportunity to visit the ham factories and discover our valley, a UNESCO Biosphere Reserve.
Open doors are the scents of our cellars where you could enjoy the perspective of hanging hams caressed by the breeze of the wind and by the rays of the sun peeking through the windows.
Open doors are our family and our history because behind a quality product there are first of all people with their passion and their dreams.
Open doors are a way to discover the taste of Parma ham like you've never done before, directly at the place of production, an emotion that will follow you every time you taste a slice of good ham again.
Open doors are culture and we are waiting to tell you our story and give you emotion through the taste of our hams.
Open doors are Casa Graziano and we are waiting for you on Sunday 8 of September from 10 to 13 and from 15 to 19.
You are welcome to Casa Graziano.
More information about the Parma Ham Festival http://www.festivaldelprosciuttodiparma.com/en/
You could follow us
Facebook https://www.facebook.com/CasaGrazianoProsciutto
Instagram http://instagram.com/casagrazianoprosciutto/
Casa Graziano s.r.l.
Loc. Capoponte - 43028 Tizzano Val Parma (PR)