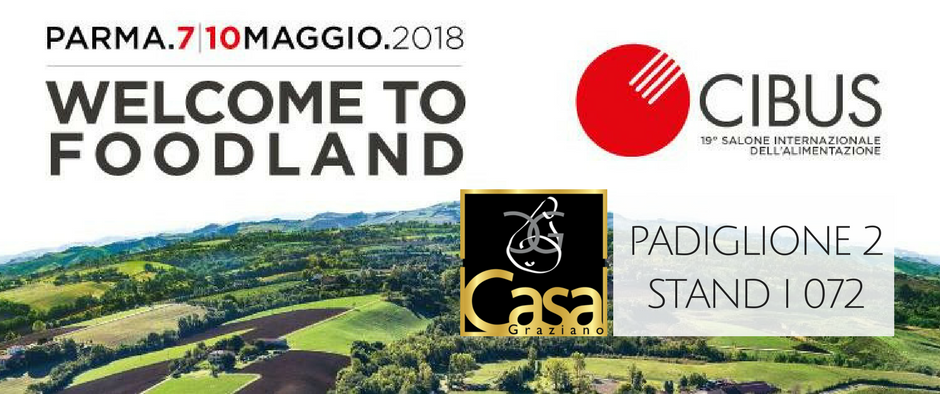 Cibus is the biggest Italian food fair and this is the 19° edition.
Cibus for Food Valley is a very important event. Through the exhibitors, Cibus tells a story about food tradition in Parma land.
Cibus for Casa Graziano' s company represents an important event because it allows us to tell you our story, let you taste our hams – made according to traditional craftsmanship – know you better and let you discover our wonderful territory.
Cibus for Casa Graziano's family is a big goal that resumes our big passion for our job. Our mission is to offer to all of you a unique prosciutto as fas as quality, sweetness, taste and fragrance.
This Cibus edition will be for us the occasion to tell you why there's no prosciutto like Casa Graziano:
unique like our hands;

fragrant like the air of our hills;

natural like an emotion;

inebriating like our passion;

sweet like a kiss.
We will delight you with our best products:
Casa Graziano Parma Ham "30 e Lode" a long seasoning (more than 24 months) in an ancient basement among old wooden scalere and wall stone. A limited production to satisfy the most sophisticated tastes.

Casa Graziano Parma Ham "Gran Riserva" our flagship product. Available in different seasoning, 18-20-24 months, to meet different consumption needs with the highest quality assurance.

Casa Graziano "Gran Culatta" the tasty solution for those that are seeking a new combination of tastes.

We are waiting for you to better know each other and spend some moments of cheerful conviviality: the beauty of the fairs is also this.
More information "www.cibus.it" .
Where
Casa Graziano a Cibus – Padiglione 2 Stand I 072
Parma Fair – Viale delle Esposizioni 393A
Entry hours:
7-10 may
from 9.30 am to 18.00 pm
Cibus is reserved for Italian and international food retail, import-export and Ho.Re.Ca professionals only.
Tickets:
60 € – one day ticket
80 € – two days ticket
100 € – four days ticket
You could follow us
facebook page CasaGrazianoProsciutto
Instagram CasaGrazianoProsciutto 
Twitter account @casagrazianoham 
Casa Graziano s.r.l.
Loc. Capoponte - 43028 Tizzano Val Parma (PR)