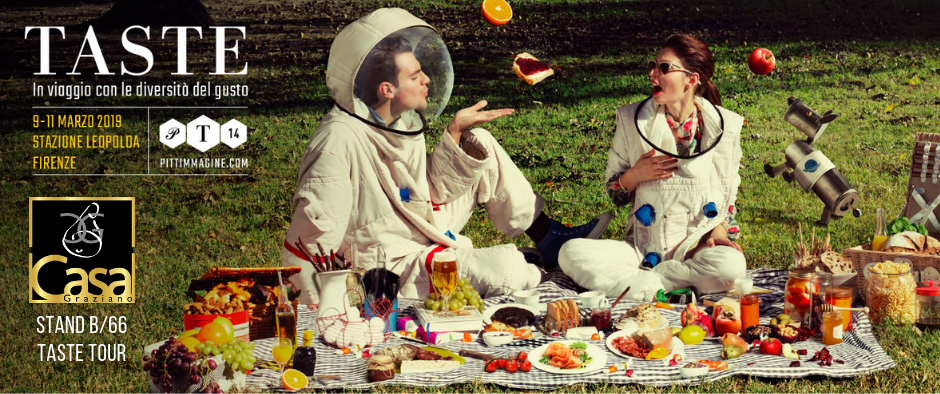 Taste in Florence is the best combination for visitors and expositors that love the taste of good things and the beauty of the Medici's City.
Taste is the perfect place to discover new products and meet craftsman quality producers, artisans that with care transform their hand made products to offer to you only the best.
Each product has its own story and we would like tell to you our story started in 1976 with a big passion for hams. Our company bears our family name "Casa"  and the name of the founder "Graziano" who still today proudly support his family to carry on the project of life started with his wife Luisa.
Andrea and Simone, sons of Graziano and Luisa, will be waiting for you in Florence, they will tell you how the Casa Graziano hams are born, still made according to the artisan tradition; they will talk about the attention to detail in the different stages of working process, they will inform you about the importance of choosing the best raw material, they will describe to you the fresh air of our mountains that allows a natural maturation, the scents of the basement of seasoning.
You will only have to let yourself be carried away by the taste of the slices of our ham and imagine our mountains and our valley where the sea wind (Marino breeze) is channeled to give perfume and sweetness to our hams.
We are waiting for you. Are you ready for this wonderful immersion in taste?
See you soon.
The Casa Graziano Family
More information about the Taste fair in Florence
Where
Florence Stazione Leopolda, via Fratelli Rossetti 5
Entry hours:
Saturday 9 and Sunday 10 March 2019
from 9.30 am to 2.30 pm only for professionals
from 2.30 am to 7.30 pm for also fo public
Monday 11 March 2019
9.30 am – 4.30 pm also for public
Ticket entrance:
€ 20 for the public – daily ticket
€ 15 for professionals – the entrance card is valid for all the three days of the event.
To access the fair is necessary an e-ticket available through the mobile Application "Pitti Smart". You could download the Pitti Smart here:
Pitti Smart for IOS (Iphone)
Pitti Smart for Android (samsung, htc, ecc)
For further information on Pitti Smart
click here
For more information about all expositors
click here
.
You could also follow us on our Social Account
Facebook
CasaGrazianoProsciutto
Twitter
@casagrazianoham
Instagram
CasaGrazianoProsciutto
.
Casa Graziano s.a.s
Loc. Capoponte - 43028 Tizzano Val Parma (PR)