Fragrant like the air of our hills
Casa Graziano's excellent products are made in the uplands of the Val Parma Valley, where the distant sea breeze mingles with the fragrant mountain air.
These aromatic flavors are transferred to our prosciutto which is carefully hung up to be seasoned and caressed by the sun and the gentle breeze.

In this pristine land - inside the "Unesco Man & Biosphere Reserve of Tosco-Emiliano Apennine," just outside the "100 Lakes" Natural Park - we follow ancient traditions every day, in order to bring a product to your table that goes well beyond any other prosciutto.

Tasting the Prosciutto of Casa Graziano you will find the richness and the flavors of our territory, unique notes that only the wise hand of man can transmit through secret gestures handed down from generation to generation.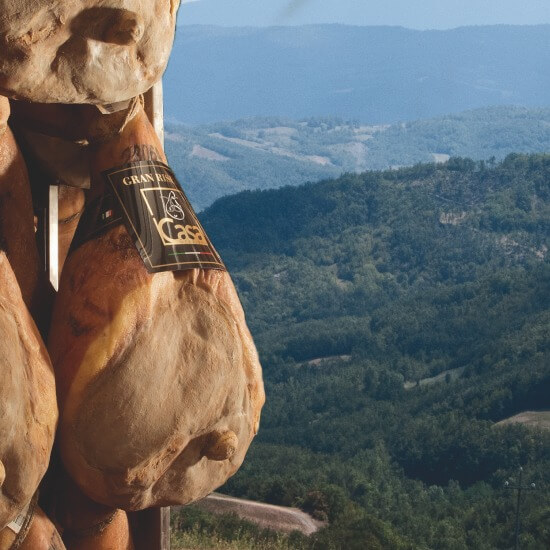 A genuine Emotion
Pork from selected farms, a little sea salt, pure air from our hills that allows the ideal seasoning of the product, our passion and a lot of patience: these are the ingredients that make our ham unique.
The selection of raw materials is made according to the strictest standards by working with selected farms and abattoirs that we personally visit.
Salting is done by hand, curing is natural and the checking of every single ham is accurate at every stage.

An absolutely genuine product, without added nitrites and nitrates, gluten, lactose or allergens - suitable for any kind of healthy diet.
Unique like our Hands
Casa Graziano remains one of the last artisan companies involved in the production of Parma Ham.

Just as in the past, members of our family participate directly in the production and curing of the hams and personally guarantee the quality and authenticity of the finished product.

Although we have a modern production plant, in line with the highest standards of hygiene and safety, we have deliberately kept some of the main stages of processing and curing "manual" to allow our hands and our experience to make the difference.

This is the only way we are sure to be able to offer you a unique product.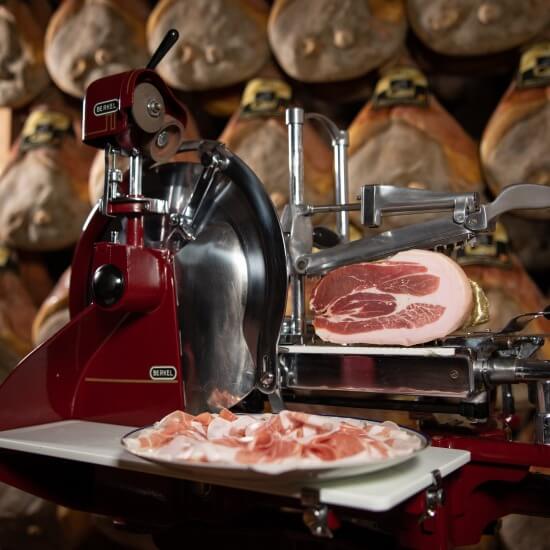 Inebriating like Passion
Love that binds us like family is the same that we dedicate to our hams, which, as we like to say, are - "brought up like children".

We care for our Prosciutto in every phase of production, starting from selection of the best raw materials through slow seasoning.
In order to be able to offer a product with high-quality standards, we start by selecting the best raw materials: drawing only from those farms that guarantee us a product with the best characteristics.
Simone and Andrea then directly follow all the stages of production and maturing, to ensure that everything is done to the highest standards.
Sweet like a Kiss
There are many kind of Prosciutto but only Ours is Inebriating, Soft, Sweet like a kiss!
Sweetness is one of the distinctive features of our ham.
Sweetness is one of the most pleasant and satisfying sensory traits, starting from childhood.
Savouring a slice of Casa Graziano ham, soft and fragrant, is like the pleasure of a kiss…#thesweetestkiss

Remember: There are many kind of Prosciutto but only Ours is Inebriating, Soft, Sweet like a kiss!
Buy our products
Do you want to taste our products?
Whether you are a company or a private individual, it doesn't matter, we are ready to satisfy your needs.